The United Nations Secretary-General António Guterres has outlined at the Press Conference on WMO State of the Global Climate 2021 Report 5 critical actions the world needs to prioritize now to transform our energy systems and speed up the shift to renewable energy. Because without renewables, there can be no future.



Energy is at the heart of the climate crisis and key to the solution. The science is clear: to avoid the worst impacts of climate change, we need to end our reliance on fossil fuels and invest in renewable energy.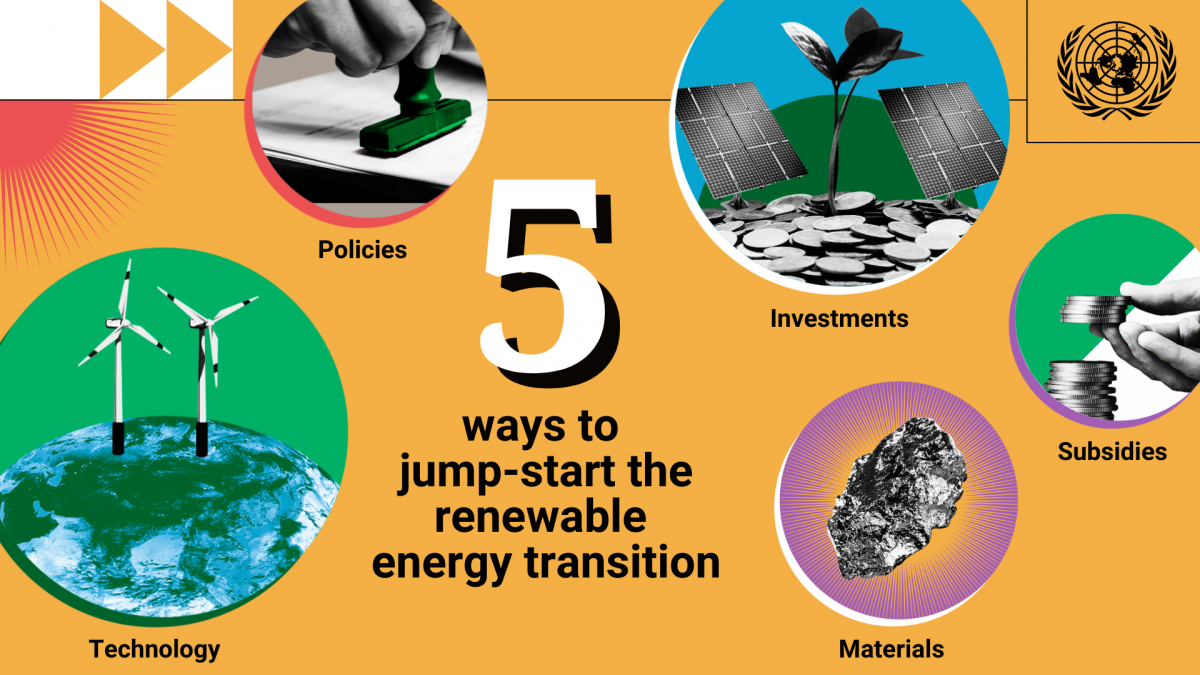 Key elements include the following calls-to-action:

1. Make renewables technology, such as battery storage, a freely available 'global public good', removing obstacles to technology transfer including intellectual property constraints.
The Secretary-General is calling for a global coalition on battery storage to fast-track innovation and deployment – led by governments, with tech companies, manufacturers, and financiers
2. Secure, scale up and diversify
the supply of components and raw materials for renewables technology.
The Secretary-General notes that currently supply chains for renewables tech and raw materials are concentrated in a handful of countries; this must change if the renewables age is to flourish.
3. Reform bureaucracies
, red tape, permitting and grid connections that hold up gigawatts of renewables projects.
Fast-track and streamline approvals for solar and wind, and modernize grids. Governments should set 1.5-aligned renewable energy targets.
4. Shift subsidies
. Each year, governments around the world pour around half a trillion dollars into artificially lowering the price of fossil fuels — more than triple what renewables receive.
While people suffer at the pump, the oil and gas industry is raking in billions from a distorted market. This must stop.
5. Triple investment
in renewables to at least USD 4 trillion annually.
The Secretary-General calls for specific actions on blended finance; responsibility and accountability for MDBs (management and shareholders, and private arms), and full alignment of portfolios with the Paris Agreement by 2024 at latest. Commercial banks must scale up renewable finance dramatically.
ref: https://www.un.org/sg/en/content/sg/statement/2022-05-18/secretary-generals-video-message-the-launch-of-the-world-meteorological-organization%E2%80%99s-state-of-the-global-climate-2021-report-scroll-down-for-languages

Learn more: UN web content on renewables:
1. Why invest in renewable energy http://www.un.org/en/climatechange/raising-ambition/renewable-energy
2. What is renewable energy https://www.un.org/en/climatechange/what-is-renewable-energy
3. 5 actions to jump-start energy transition http://www.un.org/en/climatechange/raising-ambition/renewable-energy-transition