โอกาสดีๆ สำหรับองค์กรที่สนใจด้าน Climate Action
มาทำความรู้จักแนวทางเรื่องการตั้งเป้าหมายการลดการปล่อยก๊าซเรือนกระจกตามหลักคิดทางวิทยาศาสตร์ Science-Based Target และมาตรฐาน Net-Zero Standard ซึ่งเป็นแนวทางและมาตรฐานระดับโลก
พร้อมทั้งแหล่งความรู้ หลักสูตรต่างๆ วิสัยทัศน์ และตัวอย่างการดำเนินงานเรื่อง Climate Action จากองค์กรชั้นนำในประเทศไทย
เปิดโอกาสทางธุรกิจและพัฒนาโลกให้ยั่งยืนไปด้วยกัน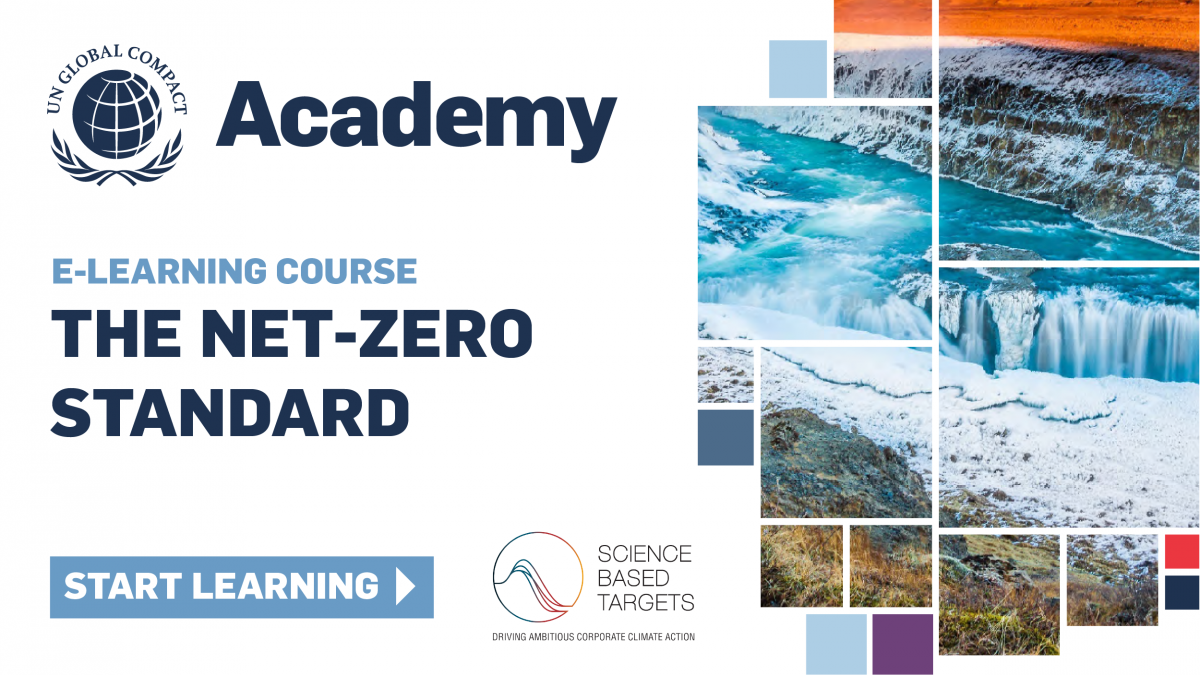 1. Academy E-Learning Course: The Net-Zero Standard

The number of businesses committing to net-zero emissions is rapidly growing, but not all net-zero targets are created equal. Without adhering to a common definition, net-zero targets can be inconsistent, and their collective impact limited.

Responding to the pressing need for a common understanding of "net zero" in a corporate context, the Net-Zero Standard offers the world's first framework for corporate net-zero target setting in line with climate science.


In this 20-minute, interactive e-learning course delivered by the UN Global Compact Academy and the Science Based Targets initiative, you will:
Discover how the Net-Zero Standard provides a common, robust, and science-based understanding of net-zero

Receive guidance on how to set science-based net-zero targets consistent with limiting global temperature rise to 1.5°C

Align your company's near- and long-term targets with climate science

Source: https://globalcompact-th.com/academy/net-zero-standard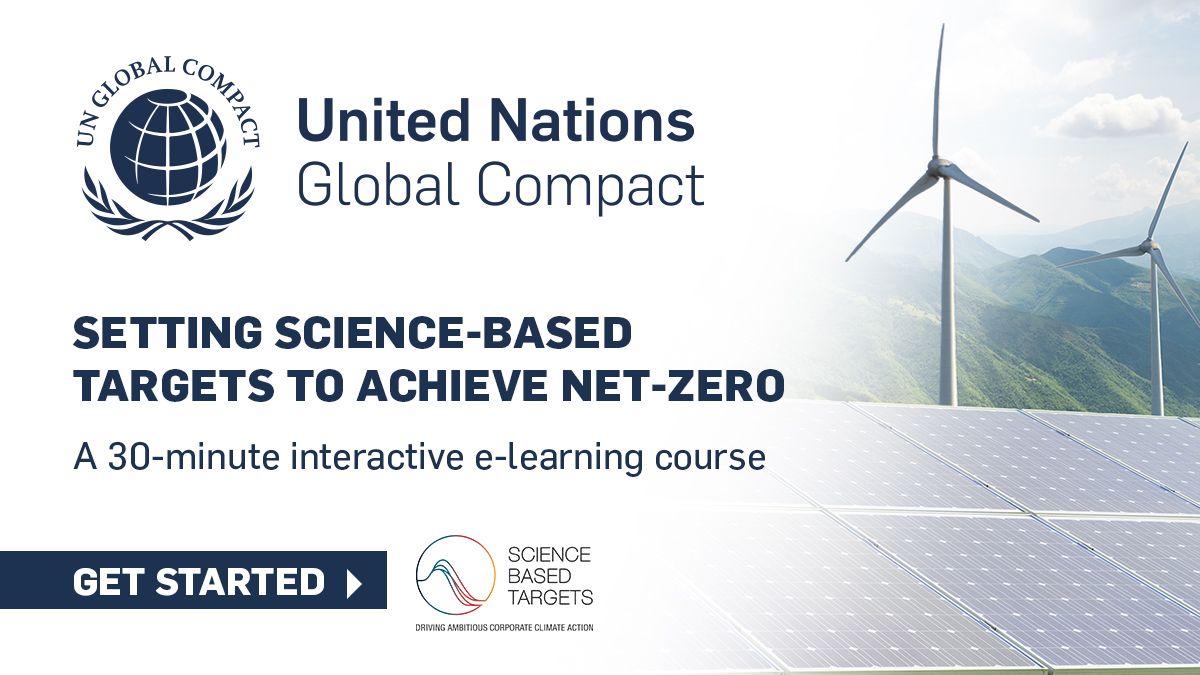 2. Academy E-learning Course: Setting Science-Based Targets to Achieve Net-Zero

Prepared in close cooperation with the Science Based Targets initiative (SBTi), the session aims at breaking down and illustrating the complexities around science-based targets (SBTs), introducing the initiative and showcasing the benefits of setting SBTs.


Science-based targets provide companies with a clearly defined pathway to reduce greenhouse gas (GHG) emissions, helping prevent the worst impacts of climate change and future-proof business growth. In light of the latest climate science, the UN Global Compact calls on all companies to set their science-based targets with 1.5°C pathways and reach net-zero emissions by no later than 2050.


This Academy e-learning course will guide you in the process of setting a science-based target in support of a net-zero future. It will also offer an opportunity to hear from other companies about why they think setting science-based targets makes good business sense.


By completing this session and related learning materials, you will learn:
What is a science-based target?

How to set a science-based target?

What can companies do to align with net-zero?
Source:
https://globalcompact-th.com/news/detail/329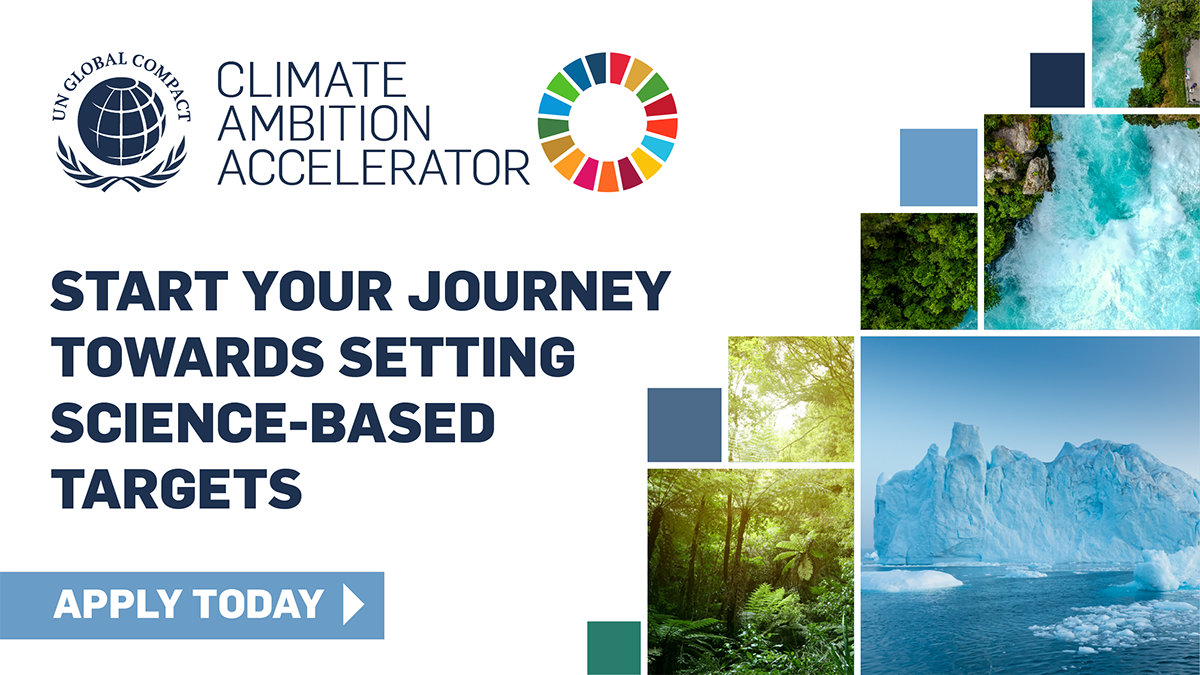 3. Join the Climate Ambition Accelerator
Climate Ambition Accelerator
The Climate Ambition Accelerator is a six-month accelerator programme for companies participating in the United Nations Global Compact who are looking to make progress towards setting science-based emissions targets and create a clear path to address their organization's transition to net-zero. Led by the United Nations Global Compact with support from Patrons Ørsted and Natura & Co and sponsored by En+ Group, the Climate Ambition Accelerator aims to scale-up credible climate action across companies of all sizes, sectors and regions, enabling them to deliver on meaningful commitments to reduce emissions at scale.


No matter where companies are in their sustainability journey, the Climate Ambition Accelerator will equip them with the knowledge and skills they need to accelerate progress towards setting science-based emissions targets aligned with the 1.5°C pathway. Through the Global Compact Local Networks around the world, participating companies will gain access to global best practices, peer-to-peer learning opportunities, capacity building sessions and on-demand training.


PROGRAMME BENEFITS
Learn how to set science-based emissions reduction targets to achieve net-zero by 2050

Motivate investors, leadership, employees and shareholders with an emissions reduction plan that sets your organization apart in the market

Gain a clear understanding of the Science Based Targets initiative (SBTi) and the net-zero concept, including methodologies,

requirements, processes, benefits and applicability

Hear from peers and share insights in group sessions

Take advantage of on-demand learning that enables you to work at your own pace

Get access to industry experts and networking opportunities

Benefit from local delivery combined with global insights and best practices
Source: unglobalcompact.org/climate-ambition-accelerator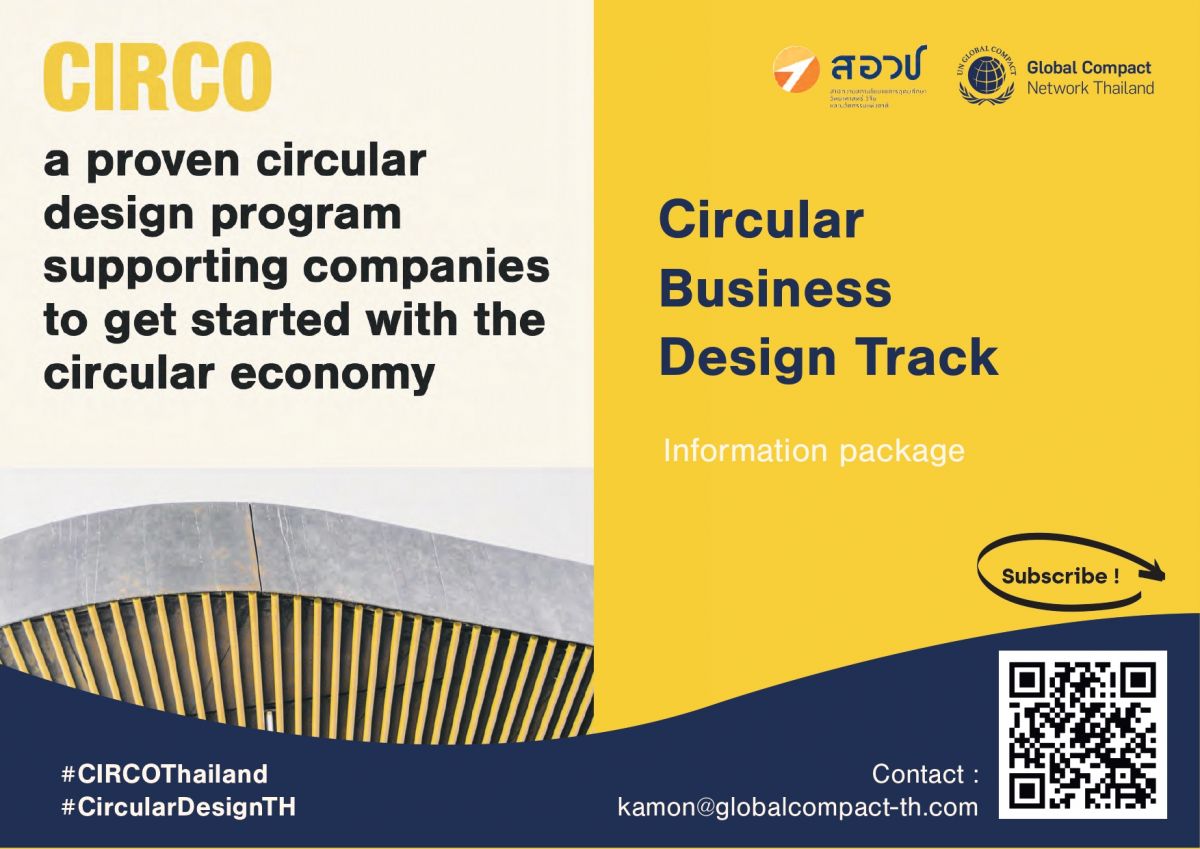 4. CIRCO Hub Thailand

CIRCO Hub Thailand was initiated in 2021 as a joint project between the Office of National Higher Education Science Research and Innovation Policy Council (NXPO) and the Global Compact Network Thailand (GCNT). Key objectives are to build circular design capacity among local entrepreneurs and businesses in Thailand, applying the CIRCO methods in their respective contexts. As Circular design has potential to create economic value and new business opportunities to enterprises, its key activities include training the Thai CIRCO trainers, organizing sector-based Circular Design Track learning programs, and cross-sector seminars. The outcome of this project includes a local circular design network among government and private sector, cumulated and shared learnings from businesses, and which will turn into policy recommendations driving the transition to Circular Economy in Thailand.

CIRCO accelerates the development to a circular economy, with design as a motor. During the Circular Business Design Track, you get extensive knowledge of the possibilities of circular design and entrepreneurship for your business.

You will explore opportunities and make concrete first steps in the development of new products, services and business models. Under the guidance of our circular experts and together with like-minded companies. You can share insights and create new (chain-) collaborations. In five half-day workshops, you will learn to turn value loss into opportunities for new business!
Source: https://circo.globalcompact-th.com/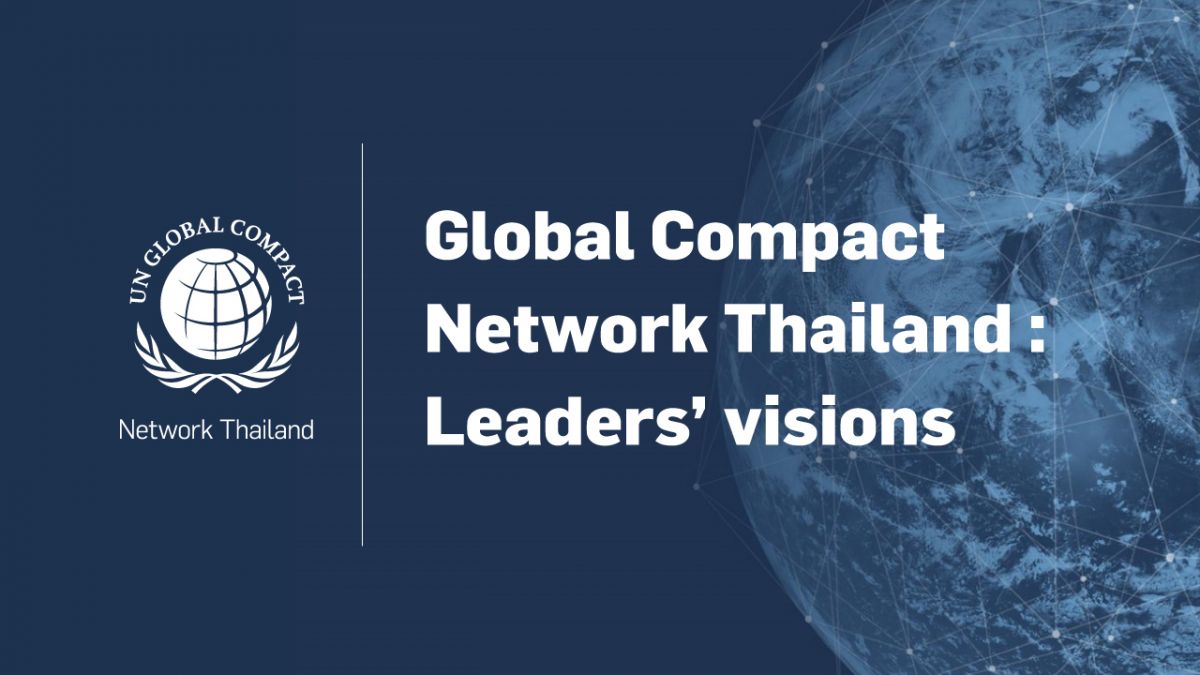 5. Global Compact Network Thailand : Leaders' visions

Global Compact Network Thailand (GCNT) is the local network of the United Nations Global Compact (UNGC), the world's largest corporate sustainability initiative, with over 100 Thai leading businesses participating. We aim to build a more sustainable global economy and provide opportunities to help the economy, society, and environment progress toward a better future.

Explore the leaders' visions for sustainability, as well as the benefits of collaborating with Global Compact Network Thailand to drive sustainability.

Join us in shaping a sustainable future:
https://globalcompact-th.com/join-us/benefits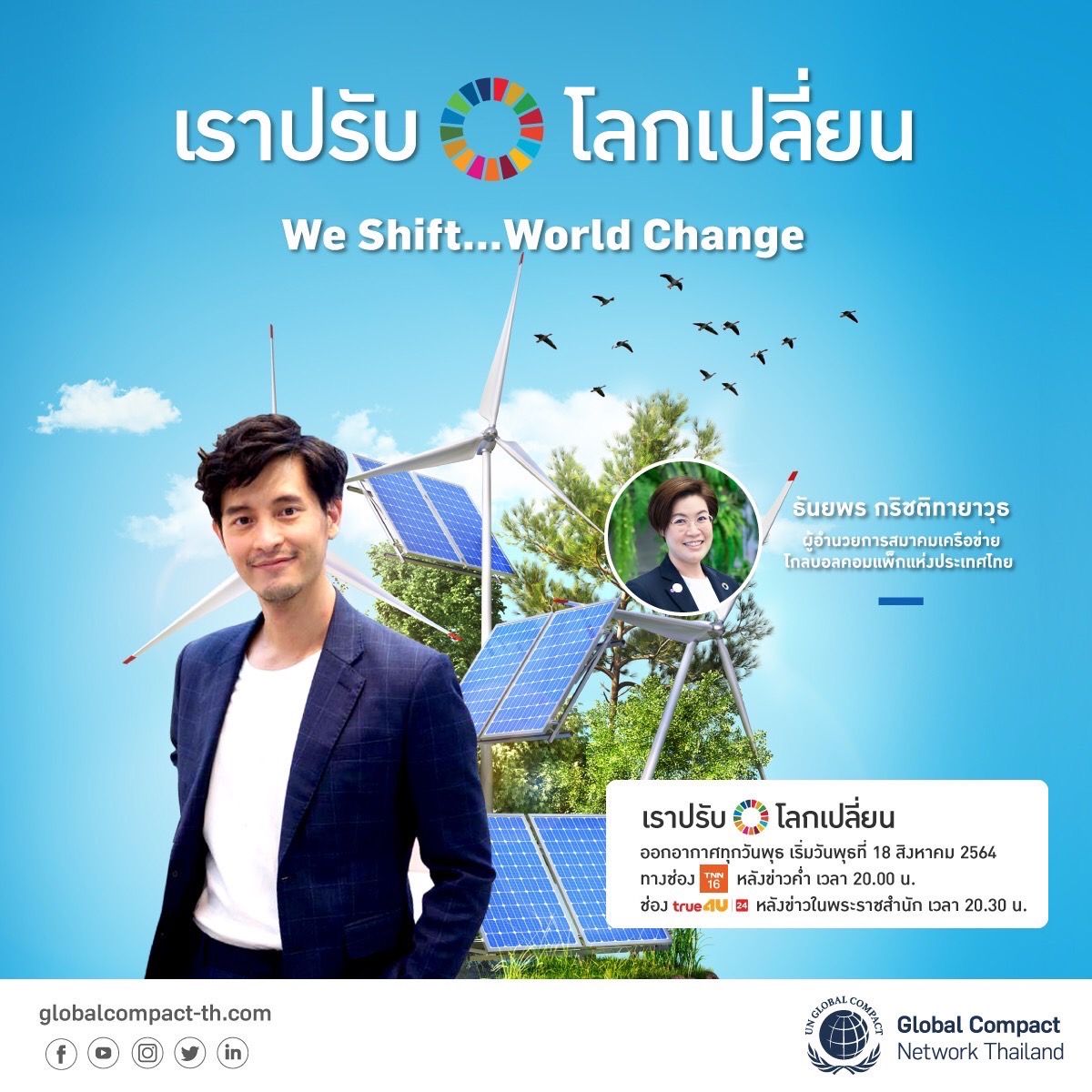 6. We Shift World Change : Thailand Climate Action
Global Compact Network Thailand collaborates with member organizations, creating content for the program "We Shift...World Changes" to create a society of learning about sustainable development concepts from leading organizations who will be sharing their visions. Convey experience and business perspectives based on sustainability on how the business sector has to adapt? To create a better sustainable economy through the program "We Shift…World Change" streaming every Monday on TNN16 channel at 10:30 p.m. or on TRUE4U channel at 8:00 p.m. and 11:00 p.m.


Telling the story of Global Compact Network Thailand through a successful member's project of Global Compact Network under the framework of 17 SDGs and the UNGC Principles. This year the focus is on the action to create "A NEW ERA OF ACTION & IMPACT" to be knowledge sharing for society to be known, learn, and apply to their own organization. Inspiration to extend business value for sustainable business operations.
Source: https://youtube.com/playlist?list=PL_RHEFJ0QZnUggHQgjv2EdjUmyGw1aSR-