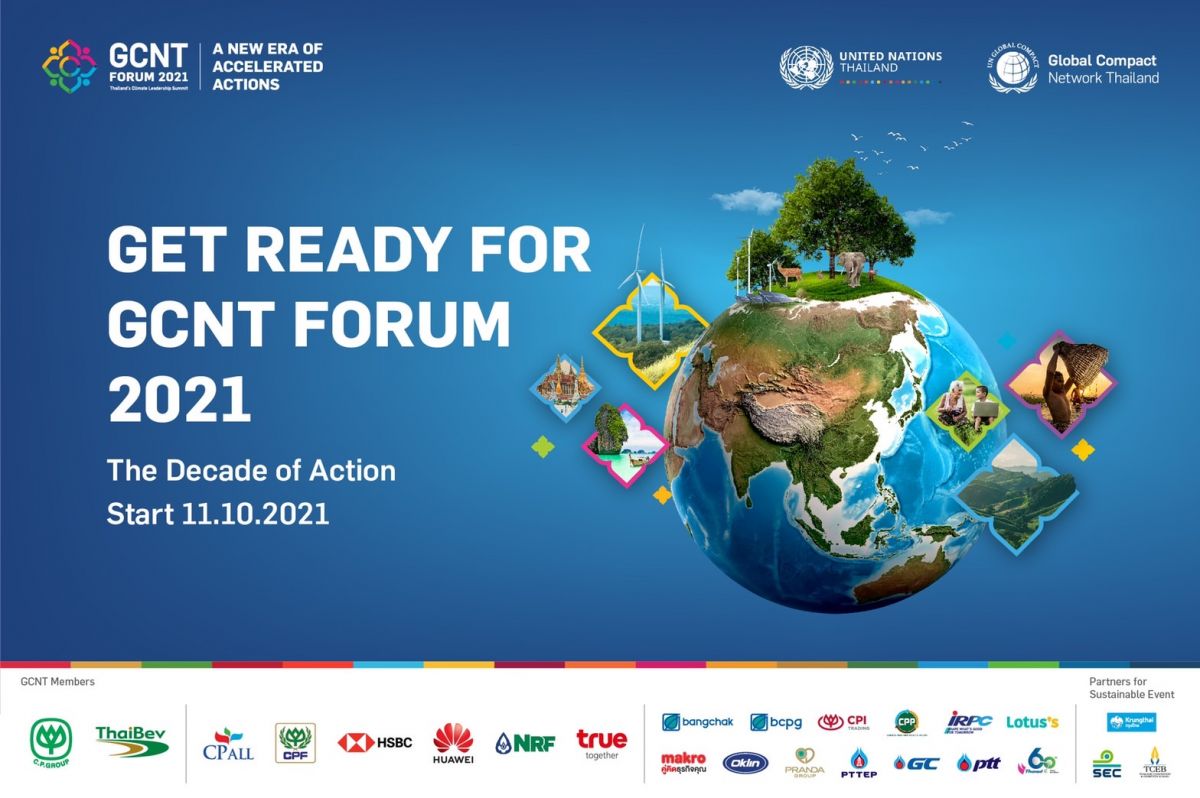 Bangkok, Thailand – Business leaders representing Thailand's major industries today joined the Global Compact Network Thailand (GCNT) Forum 2021 and United Nations in issuing a strong call to action by the private sector community on climate sustainability ahead of the United Nations Climate Change Conference COP26 in November in Glasgow. They committed to transition to more sustainable business models at the annual GCNT Forum, including net zero emissions by 2050 at the earliest.


According to the Prime Minister of Thailand, General Prayuth Chan-o-cha, today's commitment underscores the fact that climate action could not be more urgent, and leadership by the private sector is crucial to Thailand's efforts in successfully tackling climate change. The country must swiftly enhance its knowledge and capacity to create new innovations and technologies to tackle climate change and other environmental concerns and, at the same time, adapt and transition to a low-carbon economy and build resilience. In order to do so, it is necessary to leverage available international funds and mechanisms such as the bilateral exchanges of knowledge and technology and the joint credit mechanism (JCM).
At the same time, the Government has integrated climate change into national policies under the thirteenth National Economic and Social Development Plan (NESDP), i.e. the tenth milestone – Development of a Circular Economy and Low-Carbon Society, and the eleventh milestone – Reduction of Risks from Natural Disaster and Climate Change. Accordingly, the Government is currently drafting the Climate Change Act, which will ensure comprehensive coverage of all climate-change related issues. In addition, in November this year, Thailand will join the COP 26 Conference in Glasgow, which he hoped will reach conclusions to address the climate crisis and operationalize the Paris Agreement.
"Thailand places importance on a balanced and environmentally-friendly economic growth based on the Bio-Circular-Green Economic Model (BCG), and has to likewise intensify its efforts in addressing climate change. This is an opportunity for Thailand to transform towards a value-added economy that will lead to a more balanced, sustainable and environmentally friendly growth. Most importantly, it is an opportunity to create new dynamism in our economy, which will benefit all businesses," Prime Minister General Prayuth Chan-o-cha explained.
According to Mr. Suphachai Chearavanont, Chairperson of GCNT and Group Chief Executive Officer of Charoen Pokphand Group, said one-third of the network's members have delivered on their commitment to integrating the 17 Sustainable Development Goals (SDGs) into business strategies through 510 projects in the pipeline, which partially amounts to 420 billion baht. These actions mobilize sustainability within the Thai context, and likewise, today's commitment to prevent and mitigate climate change will support government efforts in line with the Bio-Circular-Green Economic Model (BCG) that is low-carbon economy, while prioritizing clean energy and high-value bio-based or "S-curve" industries. At the same time, this requires investing in new technologies and innovations with a focus on efficiency, design-thinking and building a new generation of sustainability leaders. Saving the environment starts with us and it is through transparency in corporate reporting that we can build greater awareness and resiliency to climate change.
"We must act swiftly and accelerate the Thai economy's transformation for the net zero era, to truly embrace the 'Race To Zero' with the focus on a clean energy-driven economy and society. Achieving a just transition to a green economy that is fair, leaves no one behind and reduces all dimensions of inequality especially gaps in gender parity and economic and educational opportunities," he said.
United Nations Resident Coordinator in Thailand, Ms. Gita Sabharwal pointed out that "the shift away from fossil fuel dependency and reducing carbon emissions are among the most pressing priorities, for which we have a finite window of opportunity to act." She stressed the urgent necessity to expand carbon markets, increase innovation and investments in sustainable technologies, and provide more support for small and medium-sized enterprises in the transition to net-zero. "GCNT recognizes that while sustainability goals are universal, companies have to go at their own pace, to learn and unlearn, in a challenging environment. This period of creative disruption is the key commercial opportunity of our time," she added. "The economy needs to move in unison, which makes platforms such as the GCNT all the more important."
In her video message to the GCNT Forum, Ms. Sanda Ojiambo, Chief Executive Officer of the United Nations Global Compact, congratulated the GCNT members on advancing both the 2030 Agenda and the Paris Agreement. However, she also urged all participants to reduce their corporate carbon footprint and shift to renewable energy as well as a more circular economy of reuse and recycling. "These are challenging goals, but they are also opportunities for transformative change," she said, in encouraging companies to join the United Nations Global Compact and become part of that change.
The Minister of Natural Resources and Environment of Thailand, Mr. Varawut Silpa-archa emphasized the need for collective action on the converging global crises of climate change and the COVID-19 pandemic, saying this was a roadmap for sustainable recovery. "It is not the responsibility of any one individual, not the sole responsibility of the Government or the opposition or the private sector. It is a mutual obligation that requires collaboration because climate and environmental degradation will affect us all," he said. "We must focus on greenhouse gas reductions and integrate environmental and green measures into all industrial operations and business sectors, to achieve a low-carbon society."
Five high-level panel discussions were held during the Forum, during which the participants discussed responsible business practices, with the focus on pressing issues such as the state of sustainability, credible climate actions via sustainable finance, the role of innovation and technology in addressing climate impacts, and business leadership and investment in carbon markets.
Speaking on the role of market regulators in climate sustainability, the Secretary-General of the Thailand Securities and Exchange Commission (SEC), Ms. Ruenvadee Suwanmongkol, said her organization was determined to develop enabling ecosystems for Thailand's sustainable capital market. This has already led to the introduction of the mandatory "56-1 One Report" annual reporting criteria, in which listed companies and all future IPO filing forms submitted to the SEC must disclose updated information on greenhouse gas emissions. "It is critical that the voices of all sectors are heard, and sustainability markets are supported. The SEC supports the issuance of investment products to promote that ambition," she explained.
Against this backdrop, the Stock Exchange of Thailand (SET) has been working closely with the Thailand Greenhouse Gas Management Organization and the Federation of Thai Industries "to establish a carbon credit market as a fundamental infrastructure for efficient energy consumption," according to the SET President, Dr. Pakorn Peetathawatchai. This follows the introduction of similar measures to enable innovation and development of environmentally-friendly businesses in Thailand.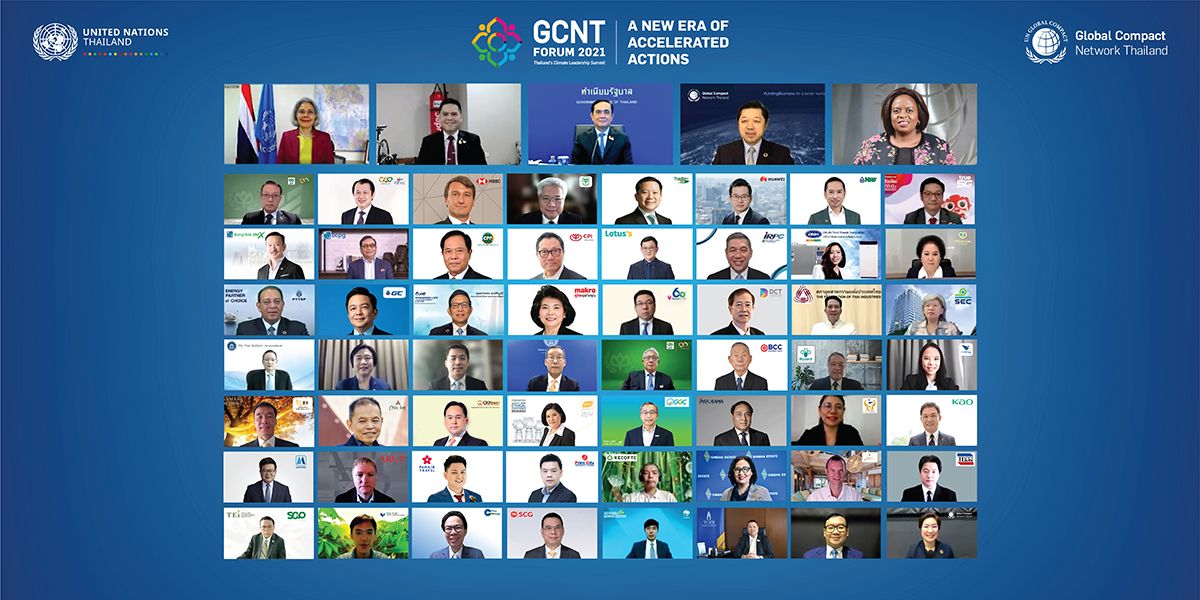 Normally held in Bangkok, the Forum this year was virtual, organized by GCNT in partnership with the United Nations in Thailand. More than 800 participants attended the event, including members of the Thai private, public and social sectors as well as representatives from the United Nations Industrial Development Organization, United Nations Environment Programme and United Nations Development Programme. Business members of GCNT participating in the forum included Charoen Pokphand Group Company Limited., Thai Beverage Public Company Limited., Charoen Pokphand Foods Public Company Limited., CP ALL Public Company Limited., HSBC Thailand., Huawei Technologies (Thailand) Company Limited., NR Instant Produce Public Company Limited., True Corporation Public Company Limited., Bangchak Corporation Public Company Limited., BCPG Public Company Limited., Charoen Pokphand Produce Company Limited., C.P. Intertrade Company Limited., Ek-chai Distribution System Company Limited., IRPC Public Company Limited., Oklin (Thailand) Company Limited., Pranda Group, PTT Exploration and Production Public Company Limited, PTT Global Chemical Public Company Limited, PTT Public Company Limited., Siam Makro Public Company Limited., Thai Oil Public Company Limited ,and Krungthai Bank Public Company Limited.
Note to Editors:
Global Compact Network Thailand Association (GCNT: Global Compact Network Thailand)
Officially launched in December 2018 by 15 founding members in Thailand, currently GCNT has more than 70 members. Global Compact is one of the United Nations' local networks of the main global projects. The United Nations Global Compact, the largest sustainable development network in the world, has campaigns for companies globally to strategize and adhere to the principles of working that create a sustainable economy. It covers four operations: human rights, labour standards, environment and anti-corruption. In addition, it carries out the activities of the movement of the social goals broadly under the United Nations Global Compact's 10 principles to accomplish the United Nations goals, such as the United Nations Sustainable Development Goals (SDGs), and including the Paris Agreement on Climate Change.
United Nations in Thailand
The United Nations has worked together with the Royal Thai Government and people of Thailand for more than 50 years to achieve inclusive and sustainable development in line with national priorities and plans. Comprising of 21 United Nations agencies, the United Nations country team in Thailand pursues this objective by carrying out work in close cooperation with the Royal Thai Government, national stakeholders, civil society, academia, private sector, donors and the media. The United Nations in Thailand also works closely with the United Nations Economic and Social Commission for Asia and the Pacific (ESCAP), and the United Nations Framework Convention on Climate Change (UNFCCC)/IGES Regional Collaboration Centre for Asia and the Pacific (RCC Bangkok).